SMO
Hardware configuration with integrated muting lamp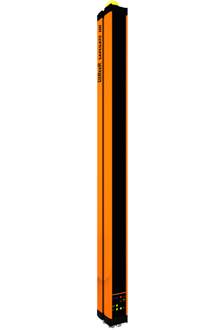 Description
SMO models
With Muting functions and integrated status and Muting lamp.
Two safety PNP static outputs, auto-controlled.
Hardware configurable models allow configuration of the Muting logic and functional parameters via the M12 12-pole main connector wiring.
Built-in, selectable manual/automatic Start/Restart.
M12 5-pole Muting sensor(s) connector for 2 or 4 external Muting sensors with one-way or two-way Muting logic.
Unshielded cables up to 100 meter long.
Protected height: 310 mm … 2260 mm.
SMO TRX models
Access control models 2, 3 or 4 beams.
With same characteristics of the SM models but with passive retro-reflector element.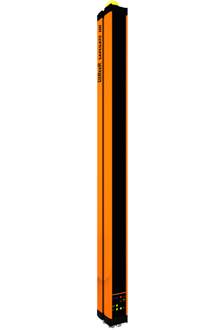 Specifications
Safety level: SIL 3 Cat. 4 PL e
Degree of protection:  IP65 and IP67
Protected height: 1060mm
Muting sensors: External with relays or PNP output (dark-on logic), Muting arms kits MA and MA TRX, Muting brackets kits MZ and MZ TRX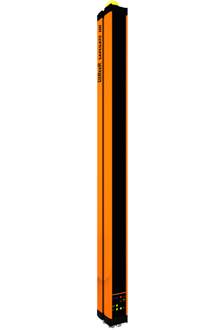 Compliance
2006/42/EC "Machinery Directive"
2014/30/EU "Electromagnetic Compatibility Directive"
Model
Operating Range
Resolution
Supply Voltage
Safety Outputs
Integrated Status and Muting Lamp
Muting Logic
Muting Sensors
Electrical Connection
Safety Rating
SMO
0-4m or 0-12m
30mm, 40mm, 2, 3 or 4 beams
24 VDC ± 20%
2 PNP- 400 mA at 24 VDC
Multicolour LED 24 VDC
One-way with 2 sensors, two-way with 4 sensors
MA muting arms kits, MZ muting brackets kits, External with relay or PNP output
M12 5-pole for emitter
M12 12-pole for receiver
Type 4
SIL 3 – SILCL 3
PL e – Cat. 4
SMO TRX
Up to 8m
2, 3 or 4 beams
24 VDC ± 20%
2 fail-safe PNP (400 mA at 24 VDC), self-controlled with protection against short circuit, overload and reverse polarity
Multicolour LED 24 VDC
Two-way with 2 or 4 sensors, one-way with 2 sensors
Muting arms TRX kit, Muting brackets with MTRX sensors kit
M12 12-pole for emitter
M12 12-pole for SM TRX receiver
Type 4
SIL 3 – SILCL 3
PL e – Cat. 4
Accessories
columns and floor support columns
deflection mirrors for the realization of perimeter protection
laser alignment device
anti-vibration dampers
adjustable brackets
Part Numbers – SMO Resolution 30 mm
| | | | |
| --- | --- | --- | --- |
| Model Number | Protected Height (mm) | Overall Height (mm) | Number of Beams  |
| SMO 303 | 310 | 420 | 16 |
| SMO 453 | 460 | 570 | 23 |
| SMO 603 | 610 | 720 | 31 |
| SMO 753 | 760 | 870 | 38 |
| SMO 903 | 910 | 1020 | 46 |
| SMO 1053 | 1060 | 1170 | 53 |
| SMO 1203 | 1210 | 1320 | 61 |
| SMO 1353 | 1360 | 1470 | 68 |
| SMO 1503 | 1510 | 1620 | 76 |
| SMO 1653 | 1660 | 1770 | 83 |
| SMO 1803 | 1810 | 1920 | 91 |
| SMO 1953 | 1960 | 2070 | 98 |
| SMO 2103 | 2110 | 2220 | 106 |
| SMO 2253 | 2260 | 2370 | 113 |
Part Numbers – SMO Resolution 40 mm
| | | | |
| --- | --- | --- | --- |
| Model Number | Protected Height (mm) | Overall Height (mm) | Number of Beams  |
| SMO 304 | 310 | 420 | 11 |
| SMO 454 | 460 | 570 | 16 |
| SMO 604 | 610 | 720 | 21 |
| SMO 754 | 760 | 870 | 26 |
| SMO 904 | 910 | 1020 | 31 |
| SMO 1054 | 1060 | 1170 | 36 |
| SMO 1204 | 1210 | 1320 | 41 |
| SMO 1354 | 1360 | 1470 | 46 |
| SMO 1504 | 1510 | 1620 | 51 |
| SMO 1654 | 1660 | 1770 | 56 |
| SMO 1804 | 1810 | 1920 | 61 |
| SMO 1954 | 1960 | 2070 | 66 |
| SMO 2104 | 2110 | 2220 | 71 |
| SMO 2254 | 2260 | 2370 | 76 |
Part Numbers – SMO Access Control (2, 3 or 4 beams)
| | | | | |
| --- | --- | --- | --- | --- |
| Model Number | Protected Height (mm) | Overall Height (mm) | Beam Spacing (mm) | Number of Beams  |
| SMO 2B | 510 | 710 | 500 | 2 |
| SMO 3B | 810 | 1010 | 400 | 3 |
| SMO 4B | 910 | 1110 | 510 | 4 |
Part Numbers – SMO TRX Access Control (2, 3 or 4 beams)
| | | | | |
| --- | --- | --- | --- | --- |
| Model Number | Protected Height (mm) | Protected Height (mm) | Bean Spacing (mm) | Number of Beams  |
| SMO TRX 2B | 510 | 710 | 500 | 2 |
| SMO TRX 3B | 810 | 1010 | 400 | 3 |
| SMO TRX 4B | 910 | 1110 | 300 | 4 |