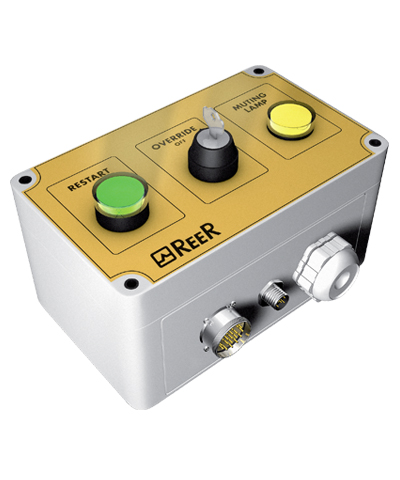 Description
The JANUS MJBOX modules are accessory devices designed to make the wiring of
JANUS J and J TRX, JANUS M and M TRX light curtains fast and safe, and to provide
the main controls necessary for their operation close to the protected gate.
In addition to the guided contacts safety relays piloted and monitored by the light
curtain, terminal boards for connecting the cables, bridges and dip-switch for the
configuration of the light curtain itself are also present inside.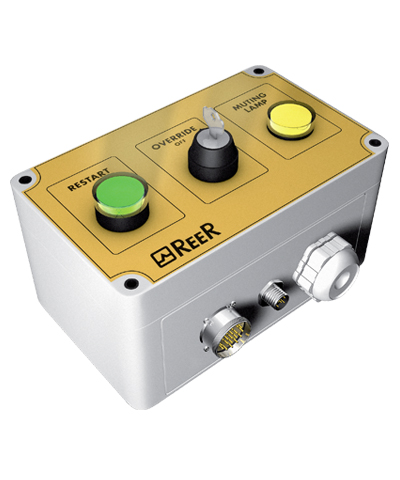 Specifications
Lighted button for light curtain Start/Restart with green LED for indicating output status and weak signal.
Key selector controlling the override function.
Indicator lamp for Muting function active.
Connector for connection to the light curtain.
Dip switches for configuration of light curtain functions.
2 Built-in safety relay with guided contacts driven and controlled by the light curtain.
Internal terminal blocks for cable connections.
Selector for connection of external Muting lamp.
Selector for internal or external relay control.
Electrical connection through cable gland.
Versions without Start/Restart and Override commands for connection with Janus J light curtain without Muting.
Note MJB 2 and 4 do not have muting and override functions.
| Model Numbers | Connections | Built In Muting Lamp | Override Selectors | Restart Buttons | Safety Relay Outputs | Order/Model Number |
| --- | --- | --- | --- | --- | --- | --- |
| MJBOX MJB 1 Connection box | 5 poles M12 connector (emitter), 19 poles M23 connector (receiver) | Yes | Yes | Yes | 2 N.O. – 2A at 250 VAC | Columns for light curtains – JANUS – VISION – ADMIRAL – METRON |
| MJBOX MJB 2 Connection box | 5 poles M12 connector (emitter), 19 poles M23 connector (receiver) | No | No | Yes | 2 N.O. – 2A at 250 VAC | Columns for light curtains – EOS and Micron |
| MJBOX MJB 3 Connection box | 5 poles M12 connector (emitter), 19 poles M23 connector (receiver) | Yes | Yes | Yes | 2 N.O. + 1 N.C. 2A at 250 VAC | Columns for light curtains – JANUS – VISION – ADMIRAL – METRONModels with PG11 rear union for cable sheath. |
| MJBOX MJB 4 Connection box | 5 poles M12 connector (emitter), 19 poles M23 connector (receiver) | No | No | Yes | 2 N.O. + 1 N.C. 2A at 250 VAC | Columns for light curtains – EOS and Micron.Models with PG11 rear union for cable sheath. |