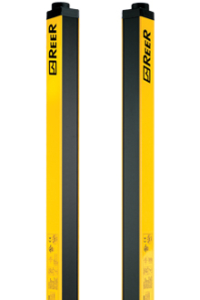 Description
ADMIRAL AX – With built-in control function
ADMIRAL AX BK – With 5 configurations built-in floating blanking function
The ideal light curtain for protecting press brakes, automatic machines and robotised areas, where the material being processed or moving parts of the machine cross the field protected by the light curtain.
Floating Blanking allows the detected object tomove freely inside the light curtain's protected field, under the condition that the intercepted beams are adjacent and that their number is not higher than the configured one.
Start/Restart interlock and EDMvia external ADSR1 interface.
Master (AX BK) and Slave modelwith resolution 14 and 20 mm for serial connectionof 2 light curtains.
The Master with Blanking models are combined with the Slave models of the Admiral series AX.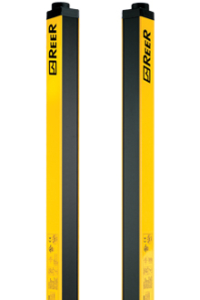 Specifications
Max range: Up to 5 m for 14 mm resolution models, up to 18 m for all other models
Built-in start/restart interlock, selectable.
Feedback input for external device monitoring (EDM).
All connections and configurations by means of M12 connectors.
Suppression of optical interference by means of range selection.
Two self-testing solid state PNP safety outputs.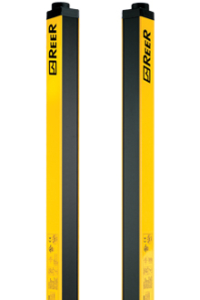 Compliance
Tested according to:
2006/42/EC
ISO 13849-1:2006 (Cat. 4 PL e)
IEC 62061(ed.1) (SILCL 3)
Model
Resolution
Supply Voltage
Safety Outputs
Electrical Connections
Protection Rating
Safety Rating
Blanking
AX
14 mm
24 VDC ± 20%
2 PNP- 500 mA at 24 VDC
M12 5-pole for emitter
M12 8-pole for receiver
IP 65 – IP 67
Type 4
SIL 3 – SILCL 3
PL e – Cat. 4
No
AX BK
14 mm
24 VDC ± 20%
2 PNP- 500 mA at 24 VDC
M12 5-pole for emitter
M12 8-pole for receiver
IP 65 – IP 67
Type 4
SIL 3 – SILCL 3
PL e – Cat. 4
Yes
columns and floor support columns
deflection mirrors for the realization of perimeter protection
laser alignment device
anti-vibration dampers
adjustable brackets
Part Numbers
| | | | |
| --- | --- | --- | --- |
| Model Number | Protected Height (mm) | Overall Height (mm) | Number of Beams |
| AX 151 (BK) | 160 | 261 | 15 |
| AX 301 (BK) | 310 | 411 | 30 |
| AX 451 (BK) | 460 | 561 | 45 |
| AX 601 (BK) | 610 | 711 | 60 |
| AX 751 (BK) | 760 | 861 | 75 |
| AX 901 (BK) | 910 | 1011 | 90 |
| AX 1051 (BK) | 1060 | 1161 | 105 |
| AX 1201 (BK) | 1210 | 1311 | 120 |
| AX 1351 (BK) | 1360 | 1461 | 135 |
| AX 1501 (BK) | 1510 | 1611 | 150 |
| AX 1651 (BK) | 1660 | 1761 | 165 |
| AX 1801 (BK) | 1810 | 1911 | 180 |
Dimensions
A = Overall Height – 10mm
B = Protected Height
C = 85mm
D = 40mm