M1 Family
MOSAIC Master Units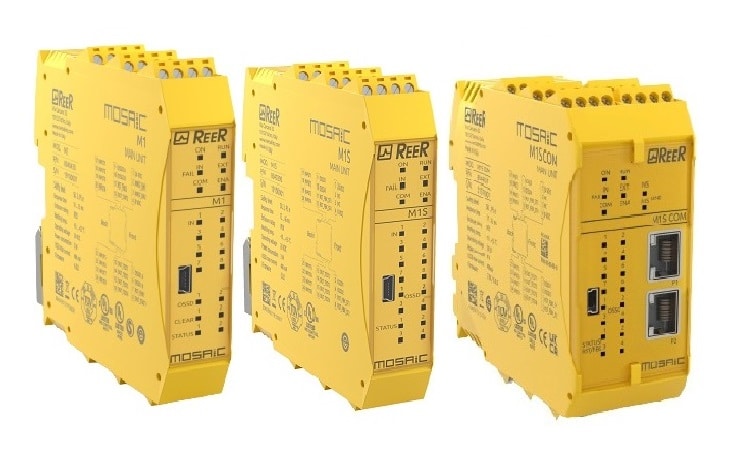 Description
The M1 is the main unit of a MOSAIC system, usable as a stand-alone device and able to control any other expansion units. M1 has 8 digital inputs, 2 inputs for interlock and external device monitoring (EDM), 2 OSSD pairs with 400mA output current, 4 test outputs for sensor monitoring and 2 programmable digital signal outputs.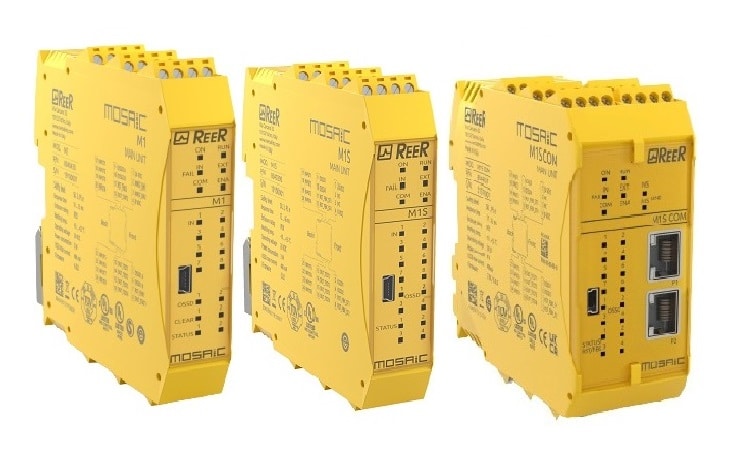 Expansion Modules
Expansion modules can be paired with the M1 master unit to provide additional inputs and outputs, or additional features such as safety relays, safety speed monitoring and compatibility with industry standards including Profibus DP, DeviceNET, CANopen, Ethernet IP, EtherCAT, PROFINET and USB.
A maximum of 14 expansion units connectable to M1 via the MSC proprietary bus.
Model
Product Number
Safety Applications
Supply Voltage
Outputs
M1
1100000
Estop, Two-hand buttons, Safety gate, Light curtain, Scanner, Enable switch
24VDC
8 Safety Inputs
2 Pair OSSD Safety Outputs
M1S
1100003
Estop, Two-hand buttons, Safety gate, Light curtain, Scanner, Enable switch
24VDC
8 Safety Inputs
4 Single OSSD Safety Outputs (2 Pairs)
M1S COM
1100006
Estop, Two-hand buttons, Safety gate, Light curtain, Scanner, Enable switch.

Fieldbus Interface built-in protocols: Ethernet IP (default), EtherCAT, PROFINET, MODBUS TCP

24VDC
8 Safety Inputs
4 Single OSSD Safety Outputs (2 Pairs)