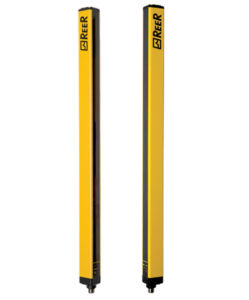 Description
Type 4 light curtain consisting of Emitter plus Receiver with integration of additional
functions such as control of feedback from any external contactors and management of
manual/automatic operation.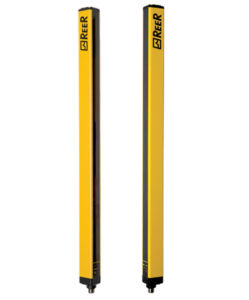 Specifications
Built-in, selectable manual/automatic Start/Restart.
Feedback input for external relays monitoring (EDM).
Two safety PNP static outputs, auto-controlled.
Unshielded cables up to 100 meter long.
An effective light curtain for directly controlling and monitoring machine circuits with no need of external safety modules.
Muting functions through external AD SRM interface, Mosaic or Safety PLC
Degree of protection IP65 – IP67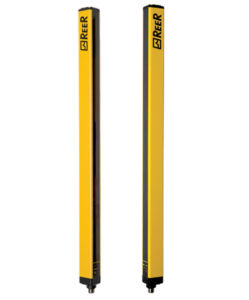 Compliance
IEC 60204-1 / EN 60204 Safety of machinery – Electrical equipment of machines
Model
Resolution
Supply Voltage
Safety Outputs
Electrical Connections
Protection Rating
Safety Rating
EOS4 X
14 mm
24 VDC ± 20%
2 PNP- 400 mA at 24 VDC
M12 5-pole for emitter
M12 8-pole for receiver
IP 65 – IP 67
Type 4
SIL 3 – SILCL 3
PL e – Cat. 4
columns and floor support columns
deflection mirrors for the realization of perimeter protection
laser alignment device
anti-vibration dampers
adjustable brackets
Part Numbers
| | | | |
| --- | --- | --- | --- |
| Model Number | Protected Height (mm) | Controlled Height (mm) | Overall Height (mm) |
| EOS4 151X | 160 | 150 | 213 |
| EOS4 301X | 310 | 300 | 363 |
| EOS4 451X | 460 | 450 | 513 |
| EOS4 601X | 610 | 600 | 663 |
| EOS4 751X | 760 | 750 | 813 |
| EOS4 901X | 910 | 900 | 963 |
| EOS4 1051x | 1060 | 1050 | 1113 |
| EOS4 1201X | 1210 | 1200 | 1263 |
| EOS4 1351X | 1360 | 1350 | 1413 |
| EOS4 1501X | 1510 | 1500 | 1563 |
| EOS4 1801X | 1810 | 1800 | 1911 |
Dimensions
A1 = Controlled Height
A = Overall Height