MECHAN MAGNASAFE SERIES
M12 Quick Disconnect Options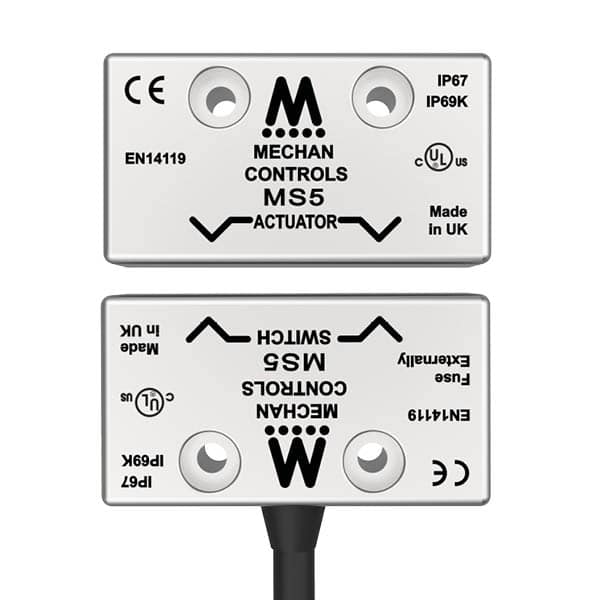 Description
The Mechan Magnasafe series switches are compact, magnetically operated safety switches designed for use with modern safety relays. The MS5SS safety switches are easy to install and tolerant to misalignment. The MS5SSHT are equipped with a special cable for use in high temperature environments, e.g. cooking / food processing. The MS5SSLQD version has 150mm connecting cable with M12, 6 pole connector, and can be supplied with 5 or 10 metre matching cable. The non-contact operation of the Mechan Magnasafe series has a 7 – 10 mm switching distance helping to ensure a long and trouble free operating life.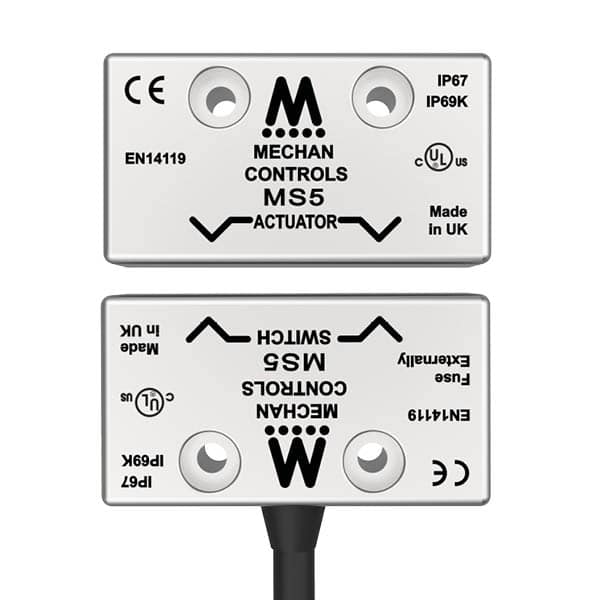 Specifications
Non-Contact Operation
IP67 & IP69K Fully Sealed, Washdown
316 Stainless Steel
Max 2A Switching Capability
Large Range of Sizes / Fittings
M12 Quick Disconnect Options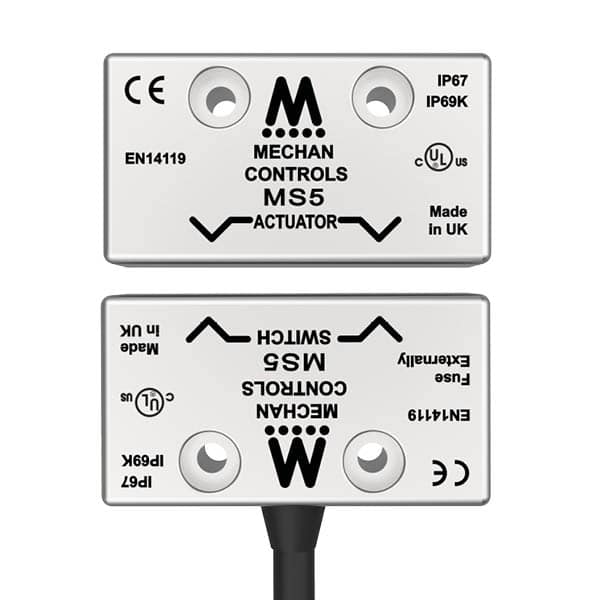 Compliance
Machinery Directive 2006/42/EC, Low Voltage Directive 2006/95/EC; EMC Directive 2014/30/EU, RoHS Directive 2011/65/EC
EN 12100 Safety of Machinery. General principles for design.
EN ISO 14119 Safety of Machinery. Interlocking devices associated with guards. Principles for design and selection.
EN ISO 13849 Safety of Machinery. Safety related parts of control systems.
EN ISO 62061 Safety of Machinery. Functional safety of safety related electrical, electronic and programmable electronic control
systems
EN 60204 Safety of Machinery. Electrical equipment of machines.
EN 60947-5-1 Low-voltage switchgear and control gear.
EN 60947-5-3 Low-voltage switchgear and control gear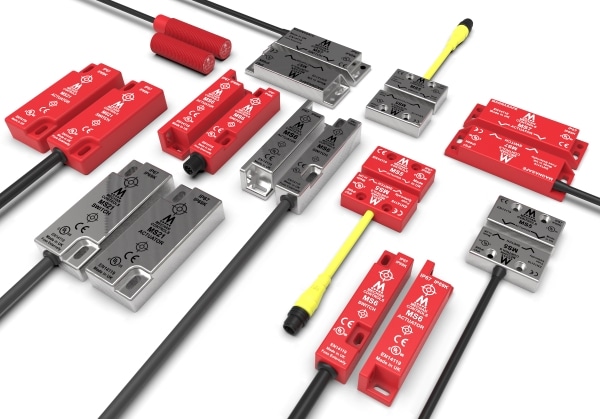 Model
Application
Connection
Safety outputs
Image
MS5-SS
Safety switch
3, 6, 10 m cable
2NO+1NC
MS5-SS-HT
High temperature cable
5, 10m cable
2NO+1NC
MS5-SS-LQD
Safety switch
M12 6-pole connector, 5 ,6m cable
2NO+1NC
MS6-SS
Safety switch
3, 6, 10m cable
1NO, 1NO + 1NC, 2NO, 2NO + 1NC
MS6-SS-HT
High temperature cable
1, 3, 6m cable
  1NO, 2NO + 1NC
More varieties and shapes are available – contact us for details.