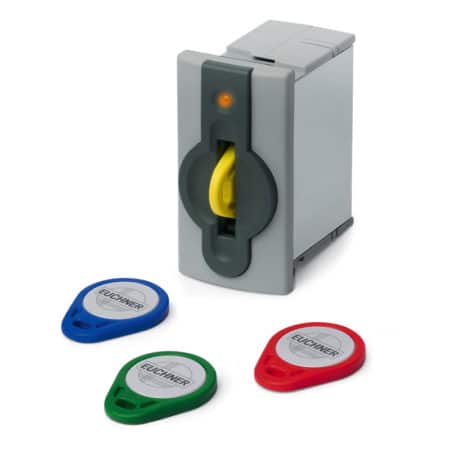 Description
EKS with data interface offers maximum flexibility. As the user you specify the data structure on the Electronic-Key and define how it is to be interpreted. For this purpose you program the processing logic in the control system to suit your needs exactly. In this way numerous possible scenarios can be depicted. For example:
Control of certain machine functions
Storage of process parameters
Traceability of events
Storage of an expiry date on the Electronic-Key
Different access rights for multiple processes
With the modular design, the Electronic-Key adapter and electronics are mounted physically separated. Due to the separation, the Electronic-Key adapter fits in standard mounting bores with Ø 22.5 mm. The rounded shape of the Electronic-Key adapter and the FDA-approved plastic permit usage in hygienically sensitive areas. With this design the Electronic-Key is only held in front or dropped into place.
Electronic-Key adapter mounted physically separated from the electronics
Straightforward installation in standard mounting bore Ø 22.5 mm
Suitable for hygienic areas
Very robust housing for use in extremely harsh environments
Note that the standard EKS system is not safety rated. The EKS FSA system is safety rated.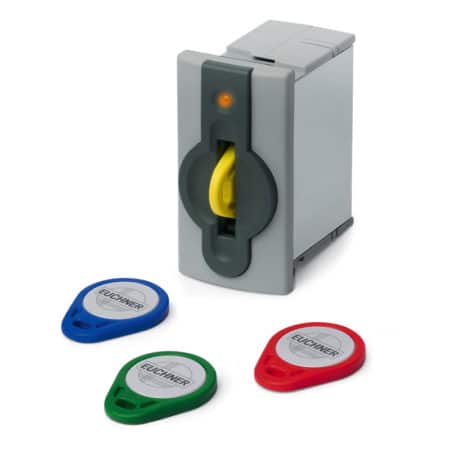 Specifications
Housing material: PA 6 GF30 Grey plastic
Protection rating: IP 67 (when in mounted condition)
| Model | Product Code | Interface | Description | Safety Rated |
| --- | --- | --- | --- | --- |
| EKS-A-IUXA-G01-ST01/04 FSA | 098513 | Single unit with electronic-key adaptor and electronics housed | USB | Yes |
| EKS-A-IEXA-G01-ST02/03/04 FSA | 099265 | Single unit with electronic-key adaptor and electronics housed | Ethernet TCP/IP | Yes |
| EKS-A-IDXA-G01-ST09/03/04 FSA | 100378 | Single unit with electronic-key adaptor and electronics housed | PROFIBUS DP | Yes |
| EKS-A-IIXA-G01-ST02/03/04 FSA | 106306 | Single unit with electronic-key adaptor and electronics housed | PROFINET | Yes |
| EKS-A-AIXA-G18 FSA | 122353 | Interface adapter with PROFINET IO interface (Plug in connection terminals not included) | PROFINET | Yes |
| EKS-A-SFH-G30-2000 | 106585 | Electronic-Key adapter EKS Front hook modular FHM, with flying lead | – | Yes |
| EKS-A-SFH-G30-ST150 | 116118 | Electronic-Key adapter EKS Front hook modular FHM, with M8 male plug | – | Yes |