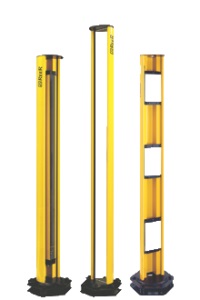 Description
All columns have a steel base with springs for a perfect adjustment of the column vertical axis.
Columns are made by aluminium extrusion poles, with adjustable angular orientation.
Easy assembling and disassembling of the light curtain with easy adjustment of the first beam's height.
There are various models for each specific light curtain.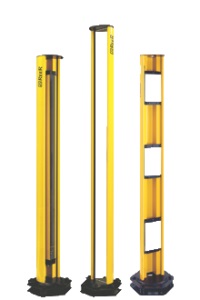 Specification
FMC E and FMC B models for light curtains.
MC E_R and FMC B_ R models for light curtains complete with PG11 rear union for light curtain cable sheath.
Assembled deflector mirrors to realize perimeter protections up to 4 sides.
FMC-SB models with pre-installed independent adjustable deflection mirrors for safety light grids with 2, 3 and 4 beams.
Optical power reduction factor 15% (for each mirror).
Special models equipped with mirror with protective anti-fragmentation film available on request.
Steel foundation inserts included with the product.
Built-in spirit level for a correct positioning of the vertical axis.
Part Numbers
Model Number
Order Description
Downloads
FMC B2 –FMC B3 – FMC B4 – FMC B1700 – FMC B2000
Columns for light curtains – JANUS – VISION – ADMIRAL – METRON
Download
FMC EB2 – FMC B4 – FMC EB1700 – FMC EB2000
Columns for light curtains – EOS and Micron
Download
FMC B2R – FMC B3R – FMC B4R – FMC B1700R – FMC B2000R
Columns for light curtains – JANUS – VISION – ADMIRAL – METRON
Models with PG11 rear union for cable sheath.
Download
FMC EB2R – FMC EB4R – FMC EB1700R – FMC EB2000R
Columns for light curtains – EOS and Micron.
Models with PG11 rear union for cable sheath.
Download
FMC S2 – FMC S3 – FMC S4 – FMC S1700 – FMC S2000
Columns with pre-assembled deflector mirrors to realize perimeter protections up to 4 sides.
Download
FMC SB2 – FMC SB3 – FMC SB4
Columns with pre-installed independent adjustable deflection mirrors for safety light grids with 2, 3 and 4 beams.
Suitable for long distances and in combination with LRH J M12 models (max. range up to 80 m).
Download
FMC B4EW
Columns for light curtains EOS WT.
Download
FMC B12
Simplified columns for 2, 3, 4 beams light grids. It permits the use with light grids with integrated Muting sensors: Janus MT and ML, Vision MXL L and MXL T.
FMC-B12 can also be used with: Admiral, Vision, EOS4 and EOS2, Micron and Metron.
Column section (mm): 30 x 60.
Column height (mm): 1200.
Download
FMC B18
Simplified columns for 2, 3, 4 beams light grids. It permits the use with light grids with integrated Muting sensors: Janus MT and ML, Vision MXL L and MXL T.FMC-B12 can also be used with: Admiral, Vision, EOS4 and EOS2, Micron and Metron.
Column section (mm): 80 x 80.
Column height (mm): 1800.
Download
FMC CB
Base for columns with 2 plates and adjustment by spring and nut.
Download
FMC CBL
Base for columns with single plate and adjustment by lock nuts.
Reduced height.
Download