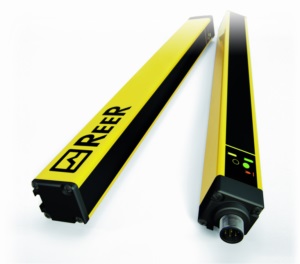 Description
Built-in, selectable manual/automatic Start/Restart.
Feedback input for controlling external relays (EDM).
Two safety PNP static outputs, auto-controlled.
All connections and setting adjustments through M12 5-pole and 8-pole connectors.
Unshielded cables up to 100 meter long.
Master and Slave models for series connection of up to 3 light curtains.
Max. length of connections toward Slaves: 50 meters, through standard unshielded cable.
Autotest every 0.5 sec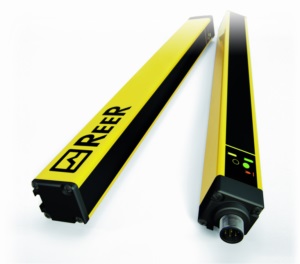 Specifications
Safety level: Type 2, SIL 2 – SILCL 2 , PL d – Cat. 2
Protected heights (mm): 160 – 1810
Resolutions (mm): 30, 40, 50, 90
Numbers of beams for body detection in access control: 2, 3, 4
Protection rating: IP65 – IP 67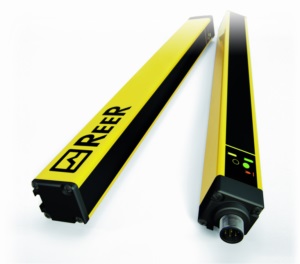 Compliance
IEC/TS 61496-2
IEC 61508 – IEC 62061
ISO 13849-1
Model
Resolution
Supply Voltage
Safety Outputs
Electrical Connections
Protection Rating
Safety Rating
EOS2 X
30 mm
24 VDC ± 20%
2 PNP- 400 mA at 24 VDC
M12 5-pole for emitter
M12 8-pole for receiver
IP 65 – IP 67
Type 2
SIL 1 – SILCL 1
PL c – Cat. 2
columns and floor support columns
deflection mirrors for the realization of perimeter protection
laser alignment device
anti-vibration dampers
adjustable brackets
Part Numbers
| | | | |
| --- | --- | --- | --- |
| Model Number | Protected Height (mm) | Controlled Height (mm) | Overall Height (mm) |
| EOS2 153X | 160 | 150 | 213 |
| EOS2 303X | 310 | 300 | 363 |
| EOS2 453X | 460 | 450 | 513 |
| EOS2 603X | 610 | 600 | 663 |
| EOS2 753X | 760 | 750 | 813 |
| EOS2 903X | 910 | 900 | 963 |
| EOS2 1053X | 1060 | 1050 | 1113 |
| EOS2 1203X | 1210 | 1200 | 1263 |
| EOS2 1353X | 1360 | 1350 | 1413 |
| EOS2 1503X | 1510 | 1500 | 1563 |
| EOS2 1803X | 1810 | 1800 | 1911 |
Dimensions
A1 = Controlled Height
A = Overall Height