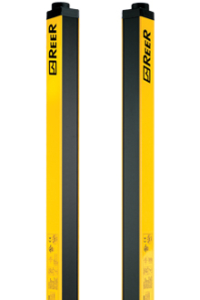 Description
The Admiral Type 4 family of safety light curtains is the ideal solution for the protection of the majority of high-risk industrial applications. Admiral light curtains may be connected to the dedicated safety interfaces series AD SR, or directly to contactors actuated and controlled by the light curtain, or to MOSAIC or to suitable commercial safety modules or safety PLCs.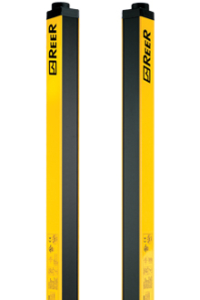 Specifications
SIL 4 Cat. 4 PL e
Start/restart interlock, selectable.
Integrated feedback input for external device monitoring (EDM).
All connections and configurations by means of
M12 connectors. Unshielded cables up to 100
meter long can be used to connect the light curtain.
Protected heights: 160 mm – 2250 mm (2250 only
for 30, 40, 50 and 90 mm resolution).
Information on the blanking function can be found in the Safety Guide.
The Floating Blanking function is available on the Admiral AX BK models.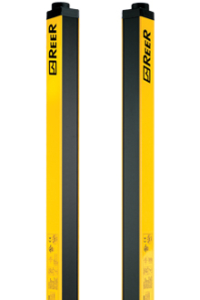 Compliance
2006/42/EC: "Machine Directive"
2014/30/EU: "Electromagnetic Compatibility Directive"
2014/35/EU: "Low Voltage Directive"
IEC 61496-1 (ed. 3) "Safety of machinery – Electro sensitive protective equipment – General requirements and tests"
IEC 61496-2 (ed. 3) "Safety of machinery – Electro-sensitive protective equipment – Particular requirements for
equipment using active opto-electronic protective devices (AOPDs)"
IEC 62061 (ed. 1) "Safety of machinery – Functional safety of safety-related electrical, electronic and programmable
electronic control systems"
ISO 13849-1:2006 (Cat. 4, PL e) "Safety of machinery – Safety-related parts of control systems – Part 1: General
principles for design"
EN 50178:1997 "Electronic equipment for use in power installations"
EN 55022:2010 "Information Technology Equipment – Radio Disturbance Characteristics – Limits and Methods of
Measurement"
Model
Resolution
Supply Voltage
Safety Outputs
Electrical Connections
Protection Rating
Safety Rating
Blanking
AX
90 mm
24 VDC ± 20%
2 PNP- 500 mA at 24 VDC
M12 5-pole for emitter
M12 8-pole for receiver
IP 65 – IP 67
Type 4
SIL 3 – SILCL 3
PL e – Cat. 4
No
AX BK
90 mm
24 VDC ± 20%
2 PNP- 500 mA at 24 VDC
M12 5-pole for emitter
M12 8-pole for receiver
IP 65 – IP 67
Type 4
SIL 3 – SILCL 3
PL e – Cat. 4
Yes
columns and floor support columns
deflection mirrors for the realization of perimeter protection
laser alignment device
anti-vibration dampers
adjustable brackets
Part Numbers
| | | | |
| --- | --- | --- | --- |
| Model Number | Protected Height (mm) | Overall Height (mm) | Number of Beams (BK) |
| AX 309 | 310 | 411 | 5 |
| AX 459 (BK) | 460 | 561 | 7 |
| AX 609 (BK) | 610 | 711 | 9 |
| AX 759 (BK) | 760 | 861 | 11 |
| AX 909 (BK) | 910 | 1011 | 13 |
| AX 1059 (BK) | 1060 | 1161 | 15 |
| AX 1209 (BK) | 1210 | 1311 | 17 |
| AX 1359 (BK) | 1360 | 1461 | 19 |
| AX 1509 (BK) | 1510 | 1611 | 21 |
| AX 1659 (BK) | 1660 | 1761 | 23 |
| AX 1809 (BK) | 1810 | 1911 | 25 |
| AX 1959 (BK) | 1960 | 2061 | 27 |
| AX 2109 (BK) | 2110 | 2211 | 29 |
| AX 2259 (BK) | 2260 | 2361 | 31 |
Dimensions
A = Overall Height – 10mm
B = Protected Height
C = 85mm
D = 40mm